Learning Resource Centre
Facilities
Both Library Resource Centres have a wide selection of books, as well as access to audio and ebooks. Pupils may borrow up to three books for three weeks. If pupils do not bring them back or renew them before the three weeks is over, they will be charged 3p for each book for each day it is overdue. 
As a Crestwood student, every young person has access to the Sora App. Using this App, students can listen to audiobooks and read the latest e-books and magazines. Featuring dyslexia-friendly fonts and 10 different languages, the Sora App makes reading accessible to everyone.
On our Cherbourg Campus, there are 24 networked PCs for student use, either in-class or during lunch break, before and after school.
On our Shakespeare Campus there are Chromebooks available for student use, as well as iPads pre-loaded with our SORA app.

Learning Resource Centre – Shakespeare Campus
Homework Club
The Resource Centres are open Monday–Thursday 8 AM to 4 PM and Friday 8 AM to 3:30 PM for students to research, use computers for homework, or read. The Homework Clubs are supported by the Library Managers.
After School Activities
The Library Resource Centres offer a range of extra-curricular activities after school on both campuses, including Chess Club, Film Club, Reading Club and Crochet and Knitting Club.
Reference Library and Non-Fiction Books
Reference books cannot be taken from the Library; they include encyclopaedias, atlases and dictionaries. Non-fiction books are divided into sections using the Dewey Classification system. The books are filed in number order and the shelves labelled to help you find the number you need.
Fiction Books have been arranged by genre, and then in alphabetical order by author's surname.
Student Librarians
The Library Resource Centre is supported by Student Librarians during lunch and break times. Students record loans on the computer and receive back any returned books.
Accelerated Reader and Reviews
Students in years 7 to 9 are encouraged to use the Accelerated Reader Scheme; they enjoy their visits to the Library where they can choose a variety of books to suit their particular reading needs. Many books within the Resource Centres are labelled for use with Accelerated Reader and students are encouraged to use these titles to improve their reading skills and learn to appreciate reading. The Library and the English Faculty have worked together to maintain this valuable contribution in developing reading skills for life and will continue to promote and support the scheme for all Crestwood students.
Each campus also has a review book where students of all ages are encouraged to rate the books they read and recommend them to others. In conjunction with Accelerated Reader this encourages young people to engage more deeply with what they read and consider why they enjoy a particular book.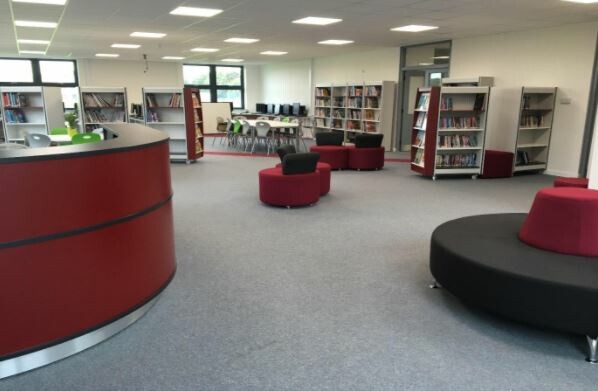 Learning Resource Centre – Cherbourg Campus