Class Charts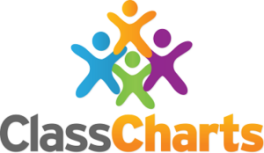 As a school, we recognise the value of homework and the positive effect it has on learning and building student resilience. We are also aware from feedback at parents' evenings, and parental questionnaires that parents often find it a challenge to monitor their child's homework. In response to this we have chosen Class Charts as our online homework host starting in September 2018.
Class Charts is an online system designed to make homework easier for students, staff and parents. Homework can be a daunting issue for us all. Teachers need to be aware of homework set by other teachers, so students don't get overloaded. Students need to be clear of their homework requirements and deadlines and parents should be involved in the homework process so they have some idea about what their children are expected to do.
As parents, you simply need to click the link below which will display a calendar-view, showing dates when your child has received homework and when it is due for collection. By clicking on a specific homework you will be able to view details of the task or activity which has been set, along with any resources uploaded by the teacher, and support your child in their learning where appropriate.

Class Charts Homework Calendar
No password is required to access the Homework Calendar so that it is easily accessible for parents and students. In this default view you can use the filters at the top of the calendar to view homework by subject, teacher, class group or year group. Students can also sign in using their student access code which will then show a personalised view of their homework calendar when they select their teaching groups.
We hope this service will provide parents with an insight into the type of homework your child receives and how often it is set. More importantly, we hope it will benefit your child by displaying all their homework and deadlines on one page, helping them to use their time more effectively and become more organised.
You can access this homework calendar from any device including Android and iOS smartphones. By signing in, you can see a tailored timetable showing only homework relevant for your child. The login button can be found in the top right corner of the Homework Calendar screen. If you do not wish to sign in, simply use the filters to find the homework for your child. Class Charts have an App available which can be downloaded via the relevant online store.
Getting Started

The Quick Start Guides below will enable you to login and use Class Charts:-
Homework Club
We run a Homework Club on each campus, every night after school, in the Learning Resource Centre. This is manned by the school librarian as well as a member of teaching staff. It runs between 14:50 – 16:00. It provides a quiet place to work, use of a computer and help from a member of staff.
If you require assistance using this service or would like to provide feedback, please do not hesitate to contact Mr. Nash